Zambia's outgoing President Edgar Lungu did the unexpected by conceding defeat and congratulated his successor and longtime rival Hakainde Hichilema, who won a landslide victory in a hotly contested presidential election.
Taking to his personal social media account, the outgoing president congratulated his successor, in a move that caught many especially from the African nations by surprise. Most African leaders especially the incumbents have had the tendency of clinging to power, even when election results said otherwise.
And thus, even though Lungu's conceding came as a surprise, its worth noting that its a step in the right direction for Africa, and a prove that democracy can really flourish if African leaders respect the rule of law, and accept the reality that people's voice is supreme, Vox Populi, Vox Dei as the latin phrase states.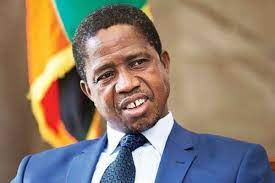 "I would therefore like to congratulate my brother, Hichilema for becoming the seventh republic president," Lungu said in a radio address, while also promising to comply with the "constitutional provision for a peaceful transition of power"
Lungu's actions are an indication that democracy is slowly being realized in Africa, and a lesson to other African leaders that a nation and its people is always important than an individual. It also goes along way to explain why its so important for the leaders to respect the instruments of power.
African leaders with the tendency or plans of clinging to power for whatever reasons they have, should also borrow a leaf from Mr. Lungu, and do the most honorable thing when their times comes, in order to help maintain peace and keep up with the rule of law.